Designing Vibrant Cities for

30+ Years
Experience
BOP is built on a history of great projects spanning 30 years across North America. Our team has designed and built numerous projects with a broad range of clients. From large-scale master plans, to more intimate community based projects and from project conception to opening day we have done it all. In all of our work we are focused on creating lasting communities. Places that are vibrant, sustainable and walkable. We believe in the life of urban places and infuse our work with a dedication to those ingredients that make urban life vital.
Approach
Our work is based on a belief in the connectivity of buildings to their surroundings; that structures support the life of the street, and that a vibrant public realm creates better living environments. We believe that a dense mix of uses in close proximity generate better community life and, ultimately, better societies. We have proven this over time. Clients consistently return to work with us because we work collaboratively with them to create successful projects. Cities support our ideas because our work serves the goals of communities and neighbourhoods.
Services
We are a full service architectural practice with experience in numerous typologies and at all stages of the project. We excel in delivering thoughtful and dynamic design solutions on projects where a combination of uses come together.
Project types include:
Residential (all types and scales)
Hotel
Office
Community Buildings
Master Planning
Urban Design
Mixed Use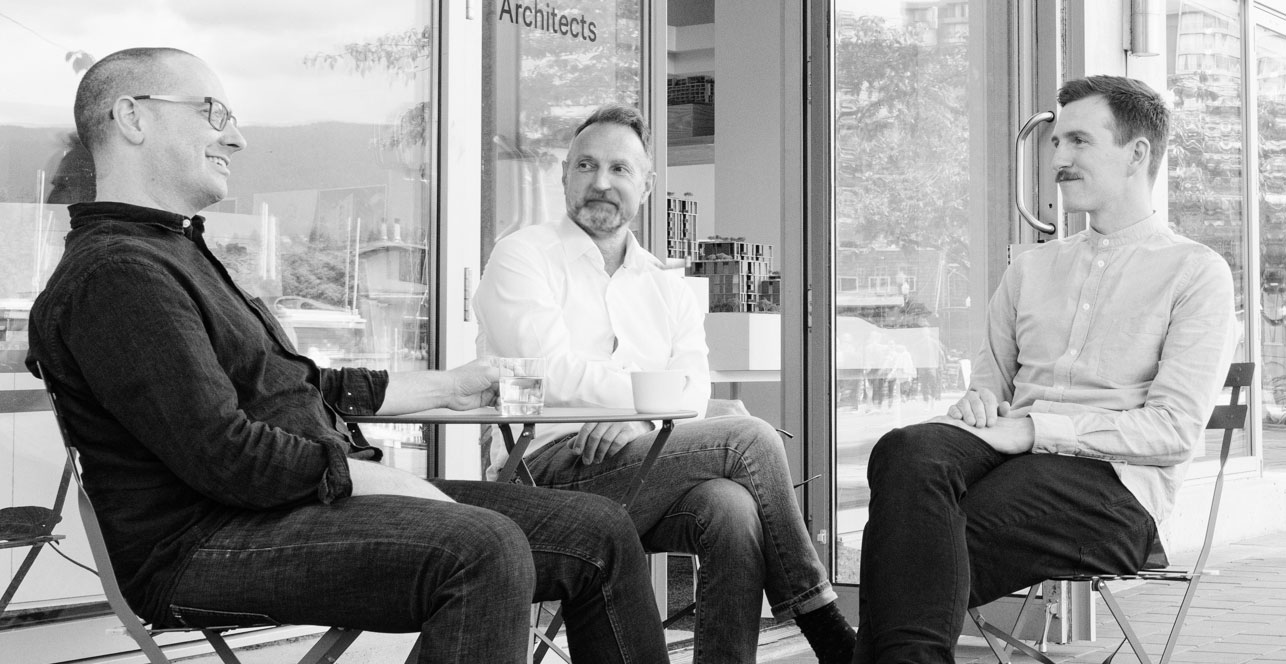 Adrian Politano
Principal
Before starting BOP with Alan and Shane in 2019, Adrian worked at firms in Victoria, Toronto, and Vancouver where he contributed to, and led numerous projects over the last 20 years. His work has included a wide range of project types: from mixed-use high-rise towers and schools to retail interiors and private homes. He has worked with diverse client groups, helping them to realize their vision by understanding their aspirations and finding design solutions to create great places.
Alan Boniface
Principal
In over 30 years of practice Alan has consistently led large and small teams in the pursuit of outstanding architecture, unique placemaking, social and environmental sustainability and economic vitality. Alan's work has focussed on complex residential mixed-use projects throughout North America and beyond.
Alan has fulfilled many leadership roles over the last 20 years extending from Managing Partner of Architectural practices, and including Chairmanships of ULI, The Vancouver Planning Commission, and numerous charity organizations.
Alan's work focusses on the idea that a dense mix of uses in close proximity generates better community life and ultimately, better societies. The creation of BOP is an opportunity to continue this pursuit while transitioning this expertise to a new generation of leaders.
Shane Oleksiuk
Principal
For Shane, the practice of architecture is both a very personal endeavour and a public and popular responsibility. His ambition to create buildings that are both generous and assertive is served by his approach to design which balances idealism and pragmatism. He does not seek novelty over substance and his work is embedded with a deliberate effort to achieve designs that are ambitious, responsive and comfortable. He believes that the best design is not the result of accidents but in fact necessitates dedication, teamwork and conviction. He brings a commitment to this approach to all of his work.
Yassin Ashour
Intern Architect AIBC
Alan Boniface
Principal, Architect AIBC, AIA Colorado
Matt Donnachie
Architect AIBC, AIA NCARB Washington
Jacob Griffith
Intern Architect AIBC, MRAIC
Krista Kals
Intern Architect AIBC
Kevin King
Urban Design & Planning Lead
Emily Koo
Intern Architect AIBC
Michael Kwan
Intern Architect AIBC
Munick Lemes
Architect CAU/Brazil, MRAIC
Kirsty McClean
Technician
Shane Oleksiuk
Principal, Architect AIBC
Adrian Politano
Principal, Architect AIBC
Helia Rashedi
Intern Architect AIBC
Surabhi Shakkarwar
Intern Architect AIBC, Urban Planner
Luciano Siffredi
Intern Architect AIBC, Architect CPAU Argentina